Dear Richard,

On Tuesday join Native Americans, environmentalists, and nurses at the San Diego Army Corps of Engineers office as part of a national day of action calling on the Army Corps and President Obama to revoke permits for the Dakota Access Pipeline. We'll have speakers (including local Native American leaders who've traveled to Standing Rock) and music, and we'll sign and deliver individual postcards to the Army Corps.
WHEN: Tuesday, Nov 15, 2016, 11:00 AM - 1:00 PM
WHERE: Army Corps of Engineers, 8775 Aero Drive, San Diego 92123

RSVP now to join us Tuesday as we stand in solidarity with Standing Rock
Please help us make this action huge!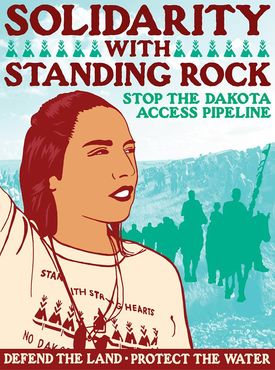 Over 200 people have RSVP'd already and we're hoping to double that number:
The movement to stop the Dakota Access Pipeline is growing stronger each day, and, especially following the election, this is the time for all of us to rise up and play a role in the fight for a sustainable planet and a just society.

We can't wait to see you Tuesday. Email us with any questions.

Masada Disenhouse
SanDiego350